A-Type Silicone
Heraeus Kulzer
Variotime Monophase Silicone Impression Material
Product SKU : HK.66045032
Regular price
Sale price
$45.00
Unit price
per
Sale
Sold out
Product Information
Monophase Silicone for Single Phase Printing Technology
Precision and accuracy of fit are the key features that every prosthesis should have. The single-phase technique is suitable for making impressions for crowns and bridges, for making transfer impressions as well as for implant restorations.
Monophase is a medium viscosity, semi-dense a-silicone. Flexitime exhibits elastic recovery once the impression is removed from the mouth compared to polyester impression materials.
Characteristics of Flexitime Monophase Silicone:
It does not fall into the bucket.
Balance of clinically relevant physical properties.
Semi-customised and non-perforatedare well suited.
High tensile strength, preventing flag tearing and distortion of the print when the mouth is removed.
Setting is accelerated just as the material is incorporated into the mouth.
Specially designed for implants.
It offers optimised final hardness and hydrophilicity.
Short intraoral setting time.
Mixingratio

 

1:1.
Self-mixing.
Working time out of the mouth: 2:30 Min.
Working time inside the mouth: 1 Min.
Minimal mouthfeel: 2:30 Min.
Contents: 2 Cartridges x 50 ml + 6 mixing tips.
Indications for Monophase Silicone:
Monophase silicone is suitable for medium viscosity single-phase printing techniques:
Crowns and bridges.
Functional impressions.
Inlays and onlays.
Printing of transfers and implants.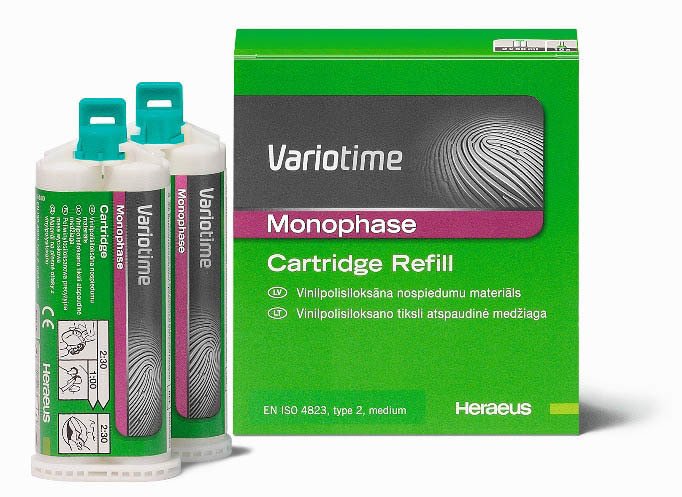 Frequently Asked Questions
Which cargo company do you send the products with?

Your products are sent with the National Postal Service as DAP (customs fees, if any, belong to the buyer)
How long does it take for the product I purchased to be delivered?

Delivery time varies from country to country. It can be delivered between 10 and 40 days.
Can you send my products with fast shipping?

Yes, if you want, you can contact us and request your products with fast shipping.This service is subject to an extra charge.
Can I buy bulk products? Can you make a discount?

If you let us know the product you are interested in and how many you want to buy, we can give you special prices.
Will I have to pay customs duty?

Our cargo shipments are in the form of DAP. These shipments may be subject to customs duty in your country. Please consult a customs official.
Can you send my cargo as DDP (all taxes paid)?

Yes we can send. Please contact us when you want a shipment in this way. These types of shipments are sent with fast shipping and will reach you within 5 to 10 business days.
Can I buy wholesale products?

Yes, you can buy wholesale products at affordable prices. You can contact us for this. Email: info@dentreal.com or Phone: +90 543 456 2614