Closing Size
Heraeus Kulzer
Variotime Memosıl 2 - Transparent A-silicone for Special Indications
Product SKU : HK.66004969
Regular price
Sale price
$70.00
Unit price
per
Sale
Sold out
Product Information
MEMOSIL 2 is a transparent A-silicone for special indications. Its transparency allows optical control when positioning aids (e.g. X-ray pellets). Light-curing is possible for filling and fixative materials through placeholders with MEMOSIL 2.
The material is best suited for use as an occlusal stamp for light-curing posterior composites, an anterior stamp for provisionals, fillings and veneers, a fixation material for x-ray measuring spheres when planning implants and a transfer matrix for bracket constructions on the plaster model.
BENEFITS
With MEMOSIL 2, you and dental technicians benefit from:
Optical control: Its transparency facilitates the positioning of aids. It also allows light curing of composites and fillings through the material.
More hygiene: Processing of MEMOSIL 2 is clean and hygienic due to its direct and sterile application.
Time saving: MEMOSIL 2 can be applied directly into the patient's mouth.
Treatment comfort: Thanks to its short time in mouth and the neutral taste and odour, patients are more at ease.
Automix: The automix cartridge system saves you time and reduces the risk of registration errors.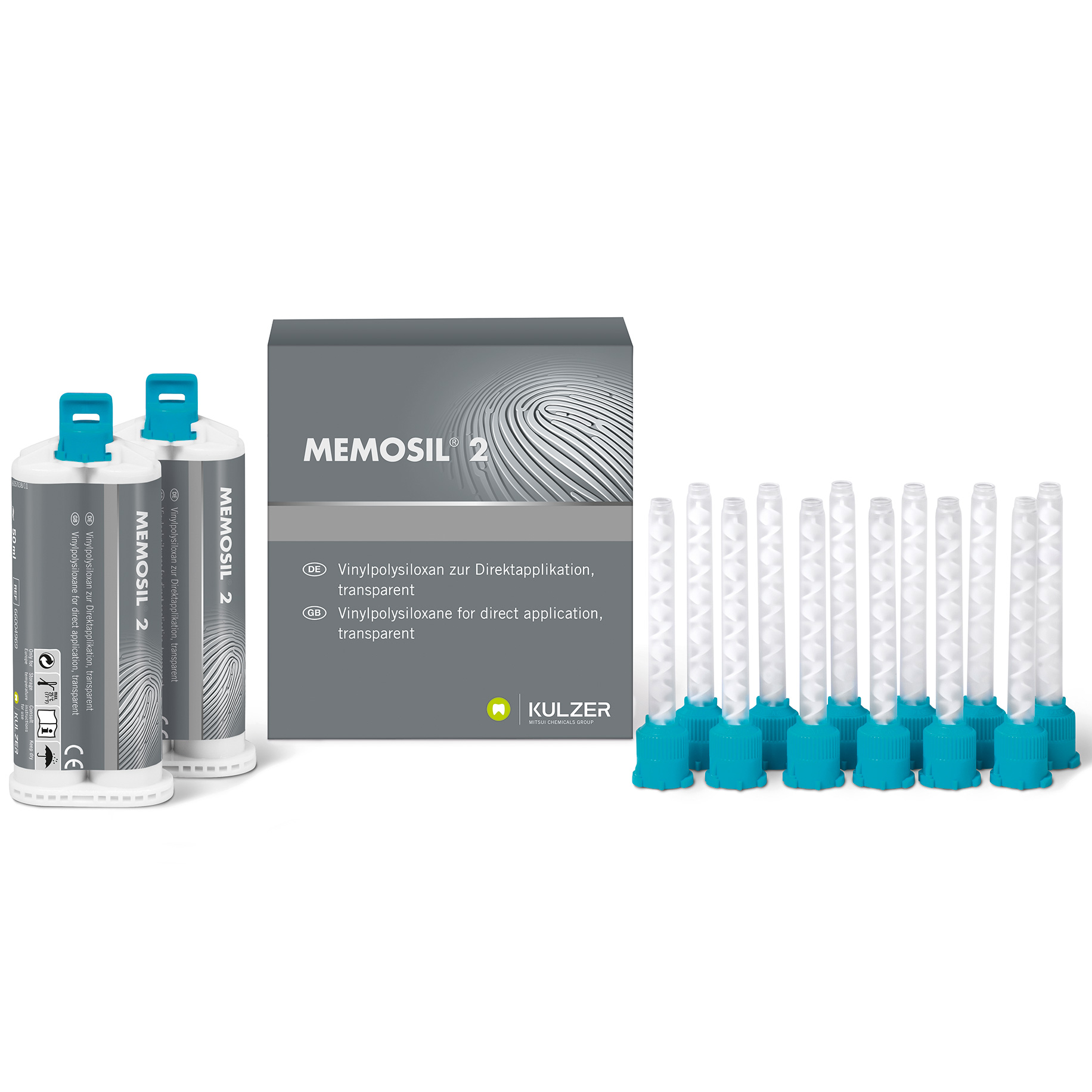 Frequently Asked Questions
Which cargo company do you send the products with?

Your products are sent with the National Postal Service as DAP (customs fees, if any, belong to the buyer)
How long does it take for the product I purchased to be delivered?

Delivery time varies from country to country. It can be delivered between 10 and 40 days.
Can you send my products with fast shipping?

Yes, if you want, you can contact us and request your products with fast shipping.This service is subject to an extra charge.
Can I buy bulk products? Can you make a discount?

If you let us know the product you are interested in and how many you want to buy, we can give you special prices.
Will I have to pay customs duty?

Our cargo shipments are in the form of DAP. These shipments may be subject to customs duty in your country. Please consult a customs official.
Can you send my cargo as DDP (all taxes paid)?

Yes we can send. Please contact us when you want a shipment in this way. These types of shipments are sent with fast shipping and will reach you within 5 to 10 business days.
Can I buy wholesale products?

Yes, you can buy wholesale products at affordable prices. You can contact us for this. Email: info@dentreal.com or Phone: +90 543 456 2614