Closing Size
Heraeus Kulzer
Variotime Bite - Bite Registration Accurate to Dimension
Product SKU : HK.66045042
Regular price
Sale price
$60.00
Unit price
per
Sale
Sold out
Product Information
Variotime Bite is a scannable VPS bite registration material that features the easy, efficient and safe processing you know from our Variotime precision impression material.
It is one material, but it has multifunctional applications.
BENEFITS
Extra hard: Very high final hardness of Shore D 40 prevents undesirable shifts when you adjust the position of the casts in the articulator.
Extremely fast: Offers a working time of 30 seconds and a fast intraoral setting time of 30 seconds.
Superb scannability: Permits powder-free 3D data recording of the antagonists for CAD/CAM technology.
Distinct thixotropy: Avoids flowing off from the occlusal surface into the interdental spaces and enables easy removal from the mouth. This enables you to precisely capture the occlusal surface while saving material.
Whipped cream-like consistency: Assures a resistance-free bite without distortion. That makes bite registration stress-free for you – and your patients.
Easy to trim & grind: Convenient processing with minimum risk of fracture.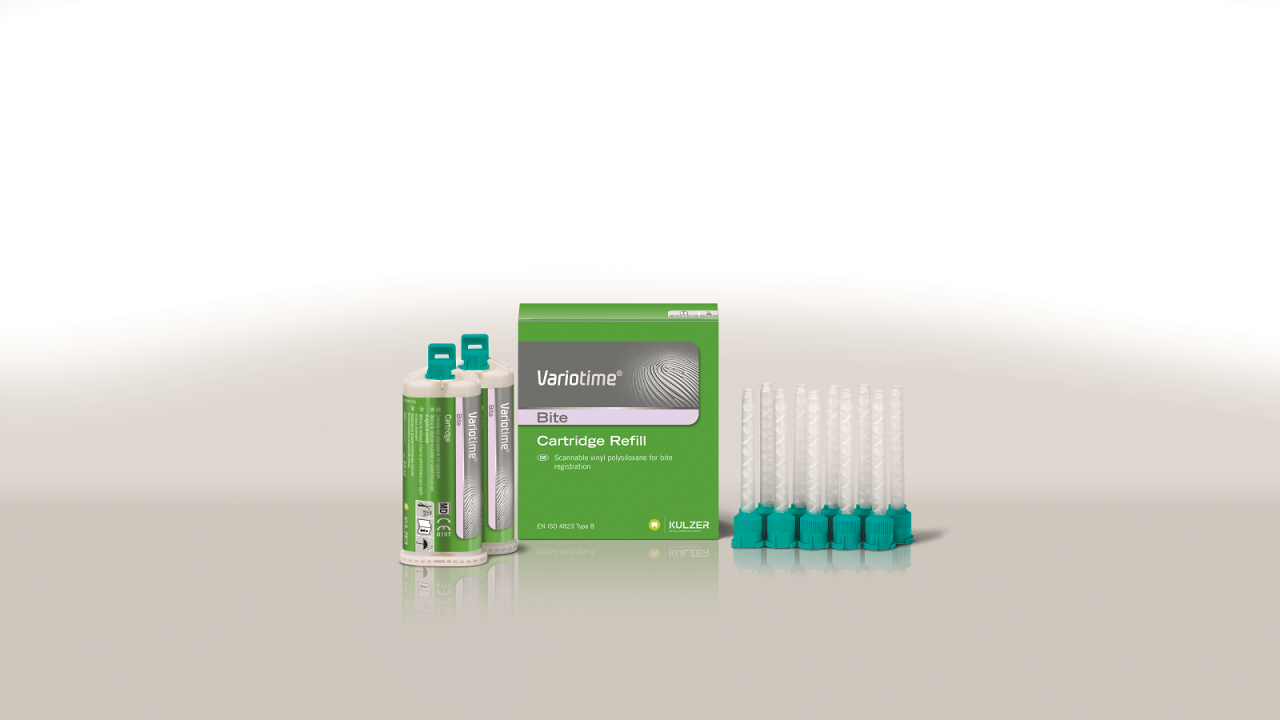 Frequently Asked Questions
Which cargo company do you send the products with?

Your products are sent with the National Postal Service as DAP (customs fees, if any, belong to the buyer)
How long does it take for the product I purchased to be delivered?

Delivery time varies from country to country. It can be delivered between 10 and 40 days.
Can you send my products with fast shipping?

Yes, if you want, you can contact us and request your products with fast shipping.This service is subject to an extra charge.
Can I buy bulk products? Can you make a discount?

If you let us know the product you are interested in and how many you want to buy, we can give you special prices.
Will I have to pay customs duty?

Our cargo shipments are in the form of DAP. These shipments may be subject to customs duty in your country. Please consult a customs official.
Can you send my cargo as DDP (all taxes paid)?

Yes we can send. Please contact us when you want a shipment in this way. These types of shipments are sent with fast shipping and will reach you within 5 to 10 business days.
Can I buy wholesale products?

Yes, you can buy wholesale products at affordable prices. You can contact us for this. Email: info@dentreal.com or Phone: +90 543 456 2614