Ebay Sales
Relining & Repair
Voco
Ufi Gel SC Hard Direct Denture Relining Material
Product SKU : VC.2041
Regular price
Sale price
$204.00
Unit price
per
Sale
Sold out
Product Information
Voco Ufi GEL SC Hard Relining Material 
Soft A-Silicone Permanent Relining Material in Cartridges
Indications
Permanent soft relining material for full and partial dentures
Pressure point treatment
Improves settling and support
As a cushion in acute alveolar processes
Rebasing in implantology
prosthesis retrofitting
Advantages
Excellent quality relining silicone
Complete relining in a single office session
Special adhesive to maximize the adhesion of the silicone to the prosthesis
Simple, easy to use and cheap
Biocompatible (no methacrylates)
Neutral taste and smell
Stable, aesthetic color with chameleon effect
Laboratory use – fewer steps than other cold cure materials
For all PMMA-based prosthetics
Easy and fast application in direct and indirect relines
Excellent adaptation on delicate details for precise seating of the prosthesis
Resistant against standard denture cleaners
CONTENTS:
REF 2041 set 50 ml kartuş, 10 ml adeziv, 10 ml glazing baz, 10ml glazing katalizör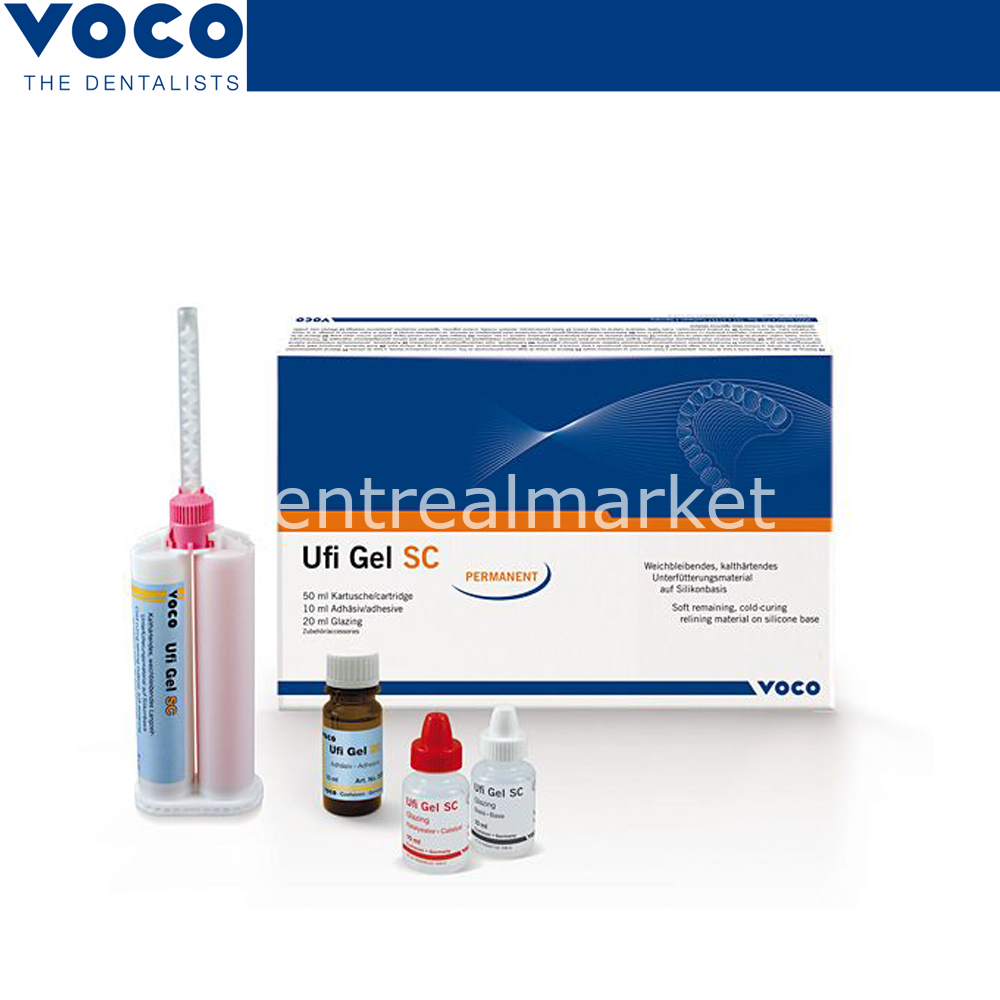 Frequently Asked Questions
Which cargo company do you send the products with?

We send products up to 2 kilos free of charge with the National Cargo service. You can also choose the fast shipping option during payment. International product delivery method DAP
How long does it take for the product I purchased to be delivered?

Delivery time varies from country to country. It can be delivered between 10 and 40 days.
Can you send my products with fast shipping?

Yes, if you want, you can contact us and request your products with fast shipping.This service is subject to an extra charge.
Can I buy bulk products? Can you make a discount?

If you let us know the product you are interested in and how many you want to buy, we can give you special prices.
Will I have to pay customs duty?

Our cargo shipments are in the form of DAP. These shipments may be subject to customs duty in your country. As the buyer, you are responsible for any customs duties that may occur at the customs in your country. If your product is taxed by customs, please follow your country's customs procedures.
Can you send my cargo as DDP (all taxes paid)?

Yes we can send. Please contact us when you want a shipment in this way. These types of shipments are sent with fast shipping and will reach you within 5 to 10 business days.
Can I buy wholesale products?

Yes, you can buy wholesale products at affordable prices. You can contact us for this. Email: info@dentreal.com or Phone: +90 543 456 2614