Office Type Whitening
Sdi Dental
Riva Star Aqua Desensitizer
Product SKU : SDI.8800536
Regular price
Sale price
$200.00
Unit price
per
Sale
Sold out
Product Information
 Riva Star Aqua Desensitizer Sensitizer
GICs
Pre-treating tooth surfaces with Riva Star is a great way to strengthen the bonding of glass ionomers to dentin 6 .
non-invasive
Riva Star is required for clinicians practicing Minimally Invasive Dentistry (MID) 1-3. It conditions the dentin and can help protect the tooth.
patented procedure
Unlike other silver fluoride systems, Riva Star's patented two-step procedure minimizes the risk of staining. By applying a potassium iodide solution to silver fluoride, a creamy white precipitate of silver iodide is formed and washed away.
tokens
Desensitizing cervical tooth hypersensitivity.
cavity cleaning
Antibacterial Activity
Riva Star is an effective biofilm inhibitor. This is supported by study results from the University of Otago (NZ), where Riva Star has a higher zone of inhibition against all four bacterial species compared to sodium hypochlorite.
CONTENTS
Riva Star Aqua - 4.5ml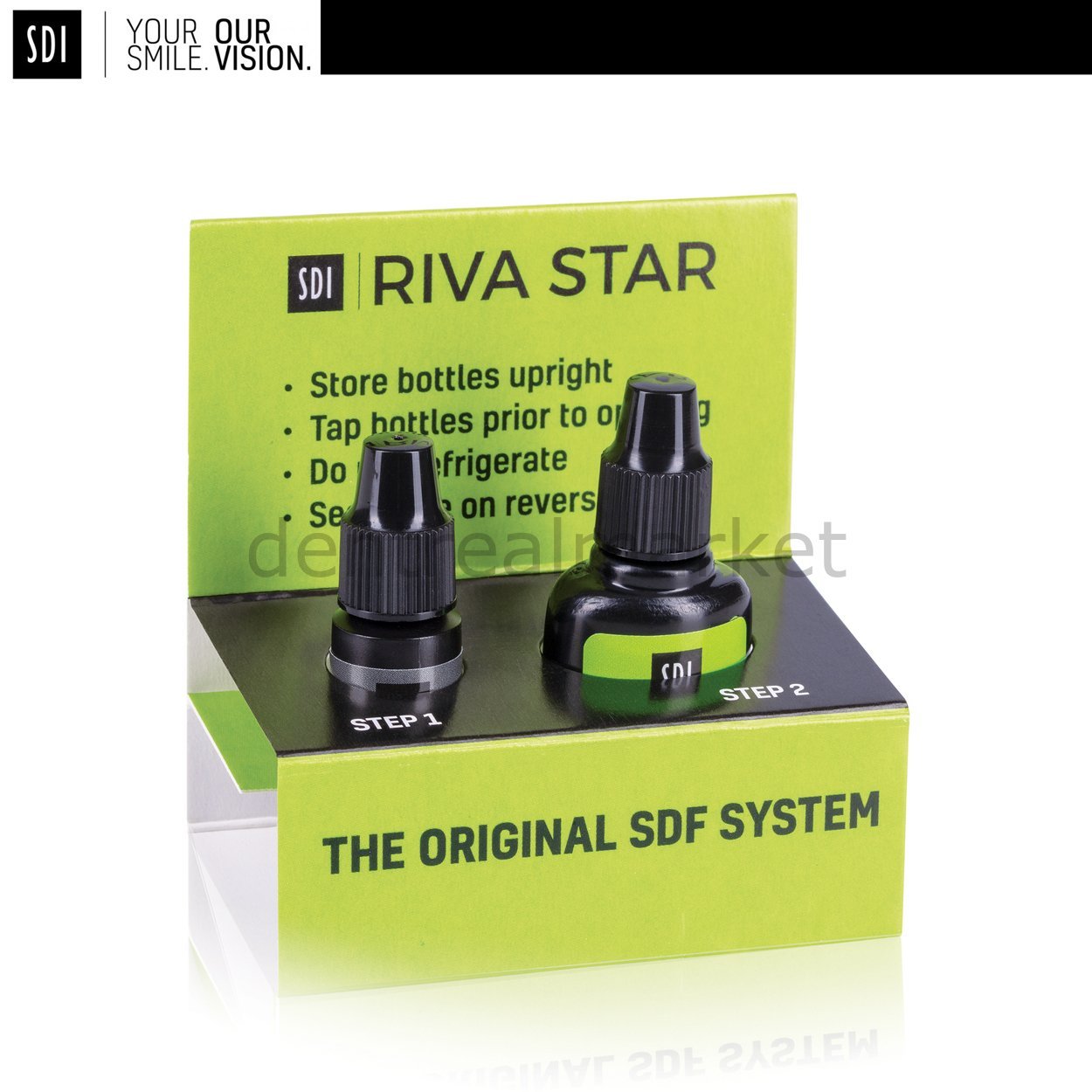 Frequently Asked Questions
Which cargo company do you send the products with?

Your products are sent with the National Postal Service as DAP (customs fees, if any, belong to the buyer)
How long does it take for the product I purchased to be delivered?

Delivery time varies from country to country. It can be delivered between 10 and 40 days.
Can you send my products with fast shipping?

Yes, if you want, you can contact us and request your products with fast shipping.This service is subject to an extra charge.
Can I buy bulk products? Can you make a discount?

If you let us know the product you are interested in and how many you want to buy, we can give you special prices.
Will I have to pay customs duty?

Our cargo shipments are in the form of DAP. These shipments may be subject to customs duty in your country. Please consult a customs official.
Can you send my cargo as DDP (all taxes paid)?

Yes we can send. Please contact us when you want a shipment in this way. These types of shipments are sent with fast shipping and will reach you within 5 to 10 business days.
Can I buy wholesale products?

Yes, you can buy wholesale products at affordable prices. You can contact us for this. Email: info@dentreal.com or Phone: +90 543 456 2614