Adhesive & Etch
Kerr
Kerr OptiBond FL Set 4th Generation Bonding
Product SKU : KR.36519
Regular price
Sale price
$132.00
Unit price
per
Sale
Sold out
Product Information
Kerr OptiBond FL Set 4th Generation Bonding
OptiBond FL
IV used in dentin and enamel. generation bonding system
Features:
• It is ethanol based.
• Thanks to the 48% glass filler in its structure, polymerization shrinkage is low and it provides stronger bonding.
• It can be applied safely in dry and humid environments without layering.
• It can be used both as a base material and as an adhesive in direct and indirect applications.
•Combines bonding and priming in a single product.
•Does not require mixing.
•One application of light curing is sufficient.
• Disposable application is available.
APPLICATION
•The area where Kerr Opti Bond FL will be applied is first isolated and dried.
• Apply 37.5% phosphoric acid on dentin and/or enamel for 15 seconds. It is washed with water for at least 15 seconds to remove phosphoric acid from the environment.
• Dentin/enamel is kept air for 5 seconds and care is taken not to leave the dentin completely dry.
•Kerr Optibond FL primer is contacted on the dentin/enamel for 15 seconds with light application. Air is held for 5 seconds. Care is taken to ensure that the dentin/enamel surface has a slightly glossy appearance.
• With Kerr Optibond FL Adhesive application, it is contacted on the dentin/enamel for 15 seconds. If necessary, light air is blown to push it to the edge or thin it out.
•It is light-cured for 20 seconds.
• Restoration continues with composite placement.
Packaging shape:
OptiBond FL Kit (Product Code: 26684)
1 x 8ml OptiBond FL Prime Bottle
1 x 8ml OptiBond FL Adhesive Bottle
1 x 3gr Gel Etchant Syringe
• 10 Disposable Gel Etchant Syringe Application Tips
•25 mixing bowls
50pcs Disposable Bonding Application Tip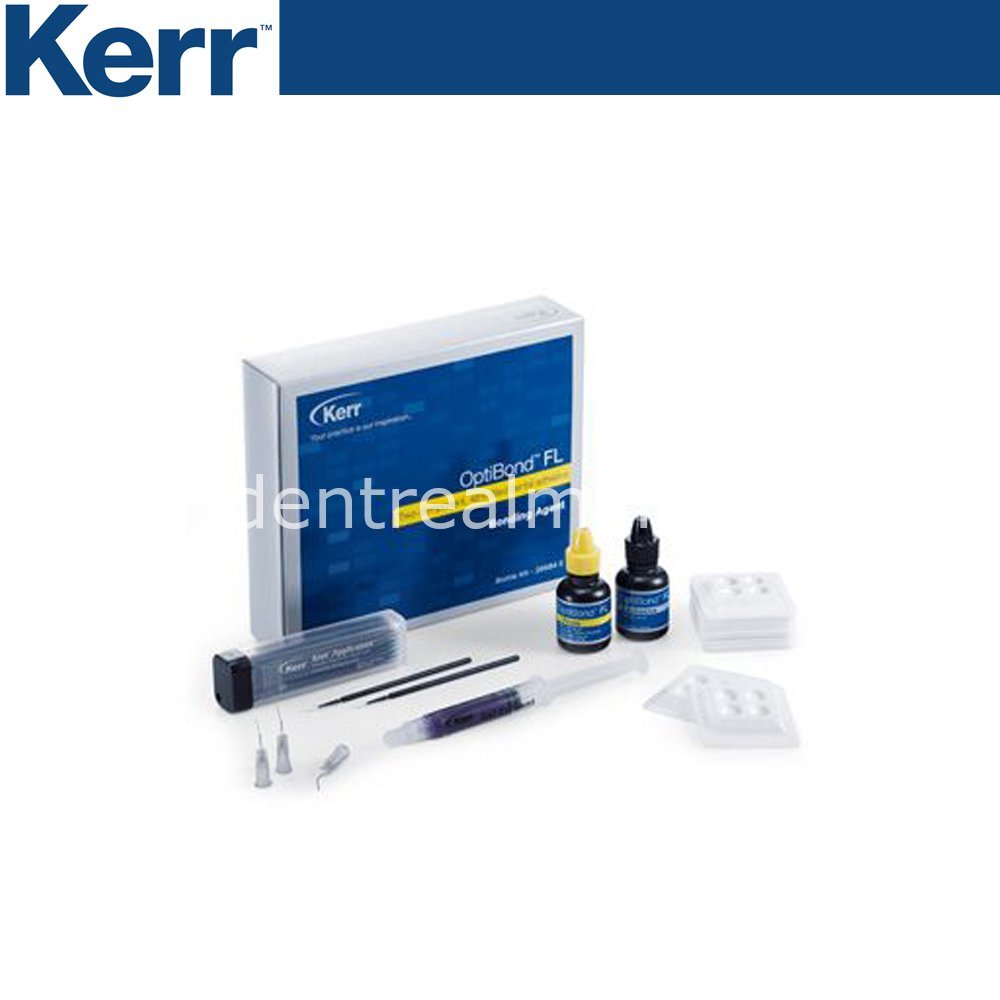 Frequently Asked Questions
Which cargo company do you send the products with?

We send products up to 2 kilos free of charge with the National Cargo service. You can also choose the fast shipping option during payment. International product delivery method DAP
How long does it take for the product I purchased to be delivered?

Delivery time varies from country to country. It can be delivered between 10 and 40 days.
Can you send my products with fast shipping?

Yes, if you want, you can contact us and request your products with fast shipping.This service is subject to an extra charge.
Can I buy bulk products? Can you make a discount?

If you let us know the product you are interested in and how many you want to buy, we can give you special prices.
Will I have to pay customs duty?

Our cargo shipments are in the form of DAP. These shipments may be subject to customs duty in your country. As the buyer, you are responsible for any customs duties that may occur at the customs in your country. If your product is taxed by customs, please follow your country's customs procedures.
Can you send my cargo as DDP (all taxes paid)?

Yes we can send. Please contact us when you want a shipment in this way. These types of shipments are sent with fast shipping and will reach you within 5 to 10 business days.
Can I buy wholesale products?

Yes, you can buy wholesale products at affordable prices. You can contact us for this. Email: info@dentreal.com or Phone: +90 543 456 2614