Bioceramic Filler
Angelus
MTA White Endodontic Root Repair Material - 7 Doses
Product SKU : ANG.822-7
Regular price
Sale price
$150.00
Unit price
per
Sale
Sold out
Product Information
INTRACANAL MEDICAMENT
Bioceramic reparative cement- MTA is used for root canal perforation, root end resection, apexification, pulp capping & pulpotomy.
INDICATIONS:-Treatment of perforations of root canal and furcation caused iatrogenically or by caries lesion.
Via canal treatment of root perforation due to internal resorption.
Surgical treatment of root perforation due to internal resorption.
Periapical surgery with reverse filling.
Pulp capping. Pulpotomy (removal of affected coronal pulp to preserve vitality of remaining pulp tissue).
Apexogenesis (induction of root development in vital teeth with an inflamed coronal pulp).
Apexification (induction of formation of a mineralized barrier at the root tip of young permanent teeth with incomplete root development and a necrotic pulp).
Ions Calcium Release: Enhances formation of mineralized tissues, provides biological seal of perforations and total repair of damaged periradicular tissues.
Biological action: Capable of inducing neoformation of periradicular cementum.
Easy to use: does not lose properties due to moisture of oral tissues.
High alkalinity: Bactericidal.
Low solubility: Does not disintegrate.
Biocompatible to oral tissues: Low inflamatory response.
Adequate compressive strength: Can be used as base restoration material.
More radiopaque than dentin and bone: Easy radiograph visibility.
Setting time of 15 minutes: Possibility of immediate restoration.
1gm MTA White.7 doses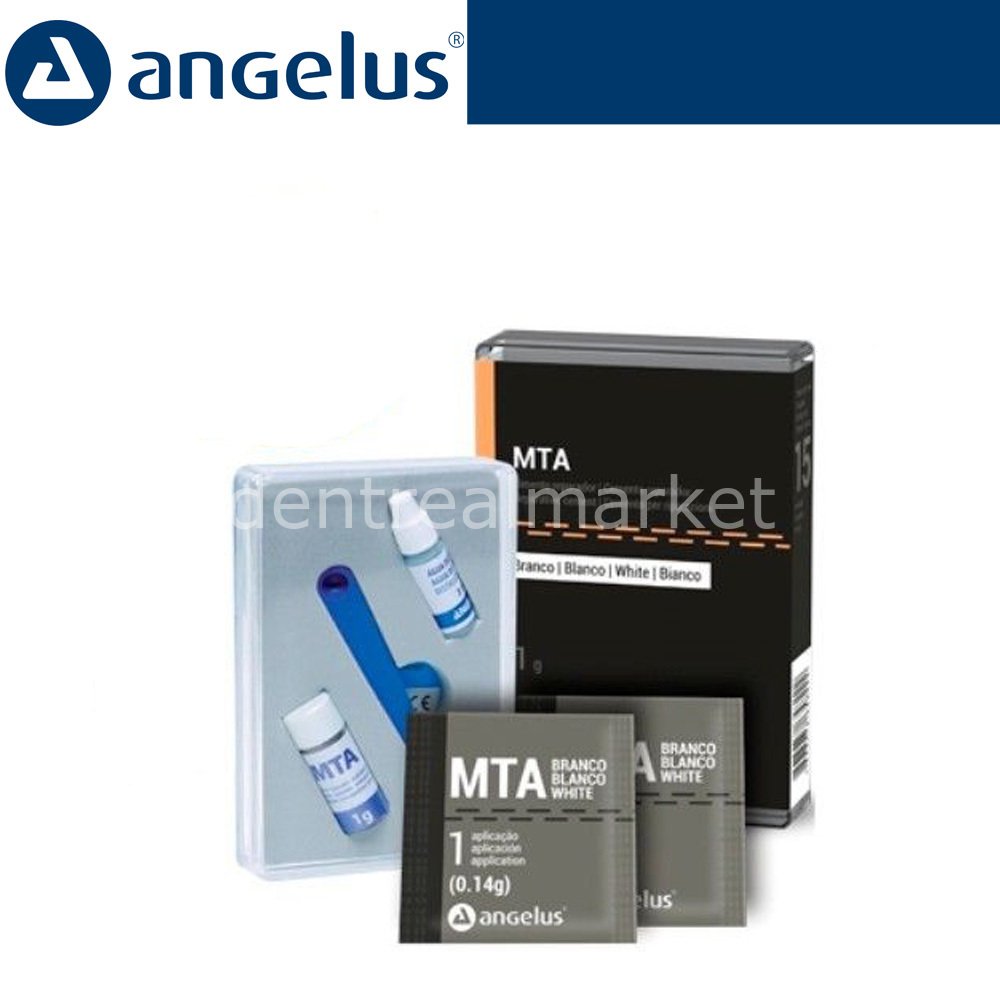 Frequently Asked Questions
Which cargo company do you send the products with?

We send products up to 2 kilos free of charge with the National Cargo service. You can also choose the fast shipping option during payment. International product delivery method DAP
How long does it take for the product I purchased to be delivered?

Delivery time varies from country to country. It can be delivered between 10 and 40 days.
Can you send my products with fast shipping?

Yes, if you want, you can contact us and request your products with fast shipping.This service is subject to an extra charge.
Can I buy bulk products? Can you make a discount?

If you let us know the product you are interested in and how many you want to buy, we can give you special prices.
Will I have to pay customs duty?

Our cargo shipments are in the form of DAP. These shipments may be subject to customs duty in your country. As the buyer, you are responsible for any customs duties that may occur at the customs in your country. If your product is taxed by customs, please follow your country's customs procedures.
Can you send my cargo as DDP (all taxes paid)?

Yes we can send. Please contact us when you want a shipment in this way. These types of shipments are sent with fast shipping and will reach you within 5 to 10 business days.
Can I buy wholesale products?

Yes, you can buy wholesale products at affordable prices. You can contact us for this. Email: info@dentreal.com or Phone: +90 543 456 2614