Gutta Percha
Medical Brokers
Mani GPR Gutta Percha Remover - Complex
Product SKU : MN.1020
Regular price
Sale price
$60.00
Unit price
per
Sale
Sold out
Product Information
MANI GPR - Gutta Percha Remover - Complex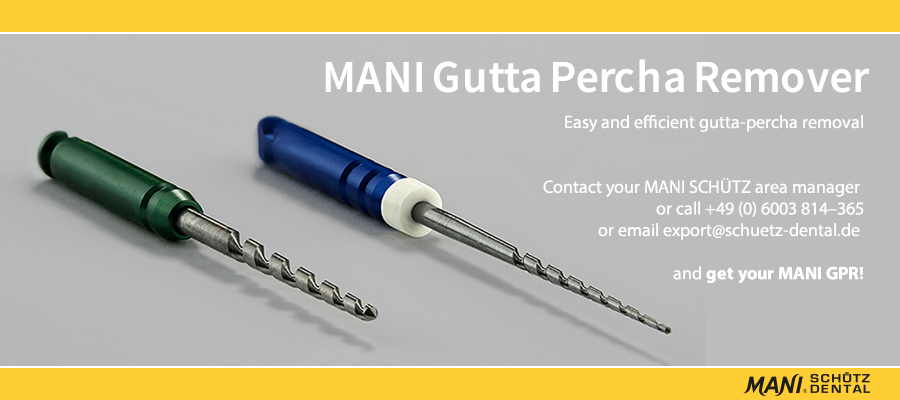 For easy, fast and efficient gutta-percha removal.
Quickly, easily and effectively remove gutta-percha during root canal treatment with MANI GPR
The special safety design of the rounded tear tip atraumatically removes existing gutta-percha while also avoiding root canal transport and excessive dentin removal. Because of the flute design, gutta-percha is removed very quickly, safely and efficiently.
Your interests:
prevent excessive dentin removal
extremely sensitive conus
atraumatic removal of existing gutta-percha
prevent root canal perforation
To prevent excessive dentin removal in the canal
shape memory hyperelastic
can make solvents unnecessary
corrosion resistance and long service life
torque regulation and easy operation without counterclockwise rotation
fast and dynamic removal of gutta-percha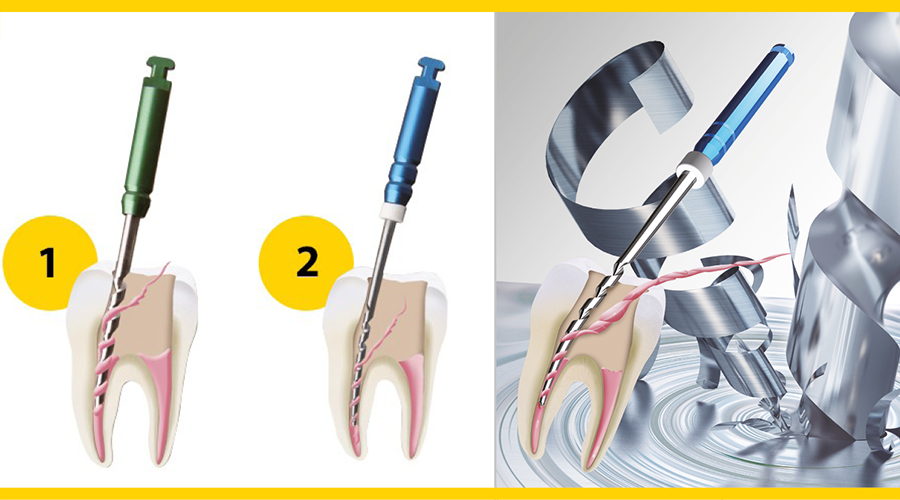 Achieve superior results with MANI GPR in two simple steps:
Step 1: Use the stainless steel GPR file - top to center
Choose 1S / # 70 or 2S / # 50 for your ideal root canal treatment (depending on the size of the drained root canal)
Place the file on top of the gutta-percha and turn it slowly.
After the first groove catches the gutta-percha, the file automatically returns to the root canal.
Pause the file for 1 - 2 seconds in the middle of the channel (before reaching the curve)
Move the file with a drag motion to remove material residue.
Step 2: Use the NiTi GPR file - from mid to apical 1 to 2 mm
Choose 3N / # 40 or 4N / # 30 (depending on root canal size) for your ideal additional root canal treatment.
Fix the rubber plug at the apex at a length of 1 to 2 mm.
Pause the file for 1 to 2 seconds. approximately 1 to 2 mm from the middle.
To completely remove the material residue, move the file with a pull motion
Technicial Specifications


features and benefits
 

Explore four different variants of MANI GPR:



Frequently Asked Questions
Which cargo company do you send the products with?

We send products up to 2 kilos free of charge with the National Cargo service. You can also choose the fast shipping option during payment. International product delivery method DAP
How long does it take for the product I purchased to be delivered?

Delivery time varies from country to country. It can be delivered between 10 and 40 days.
Can you send my products with fast shipping?

Yes, if you want, you can contact us and request your products with fast shipping.This service is subject to an extra charge.
Can I buy bulk products? Can you make a discount?

If you let us know the product you are interested in and how many you want to buy, we can give you special prices.
Will I have to pay customs duty?

Our cargo shipments are in the form of DAP. These shipments may be subject to customs duty in your country. As the buyer, you are responsible for any customs duties that may occur at the customs in your country. If your product is taxed by customs, please follow your country's customs procedures.
Can you send my cargo as DDP (all taxes paid)?

Yes we can send. Please contact us when you want a shipment in this way. These types of shipments are sent with fast shipping and will reach you within 5 to 10 business days.
Can I buy wholesale products?

Yes, you can buy wholesale products at affordable prices. You can contact us for this. Email: info@dentreal.com or Phone: +90 543 456 2614
Dental Outlet
Vendor:

Regular price

$90.00

Sale price

$60.00

Unit price

per

Vendor:

Regular price

$50.00

Sale price

$30.00

Unit price

per

Vendor:

Regular price

$90.00

Sale price

$60.00

Unit price

per