Posterior Composite
Kuraray
Clearfil Majesty Es-2 Composite Refill
Product SKU : K.3020EU
Regular price
Sale price
$100.00
Unit price
per
Sale
Sold out
Product Information
Kuraray Clearfil Majesty Es-2 Composite Refill
Product description :
It is a light-cured universal composite.
 
Properties
Brightness and vibrancy to match VITA™ colors
amazing chameleon effect
Wide color range, four different transparent color options
Color options suitable for the layering technique
 Indications
It is used for direct restorations in anterior and posterior teeth, all classes of cavities.
It is used in direct veneer production.
It is used for tooth position corrections and for color studies.
(diastema closure, teeth with discoloration problems, etc.)
It is used for intraoral repair of broken restorations.
 Packaging: 1 syringe (3.6 g/2.0 ml
 Professional Syringe Kit
16 syringes and 1 x Color Scale
Classic and Premium Colors: 1 syringe for each color (3.6 g/2.0 ml),
Translucent Colors: 1 syringe for each color (1.8 g/0.9 ml)

Professional PLT Kit
16 PLTs and 1 x Color Swatch Classic, Premium and Translucent Colors: 5 tips (0.25 g) for each color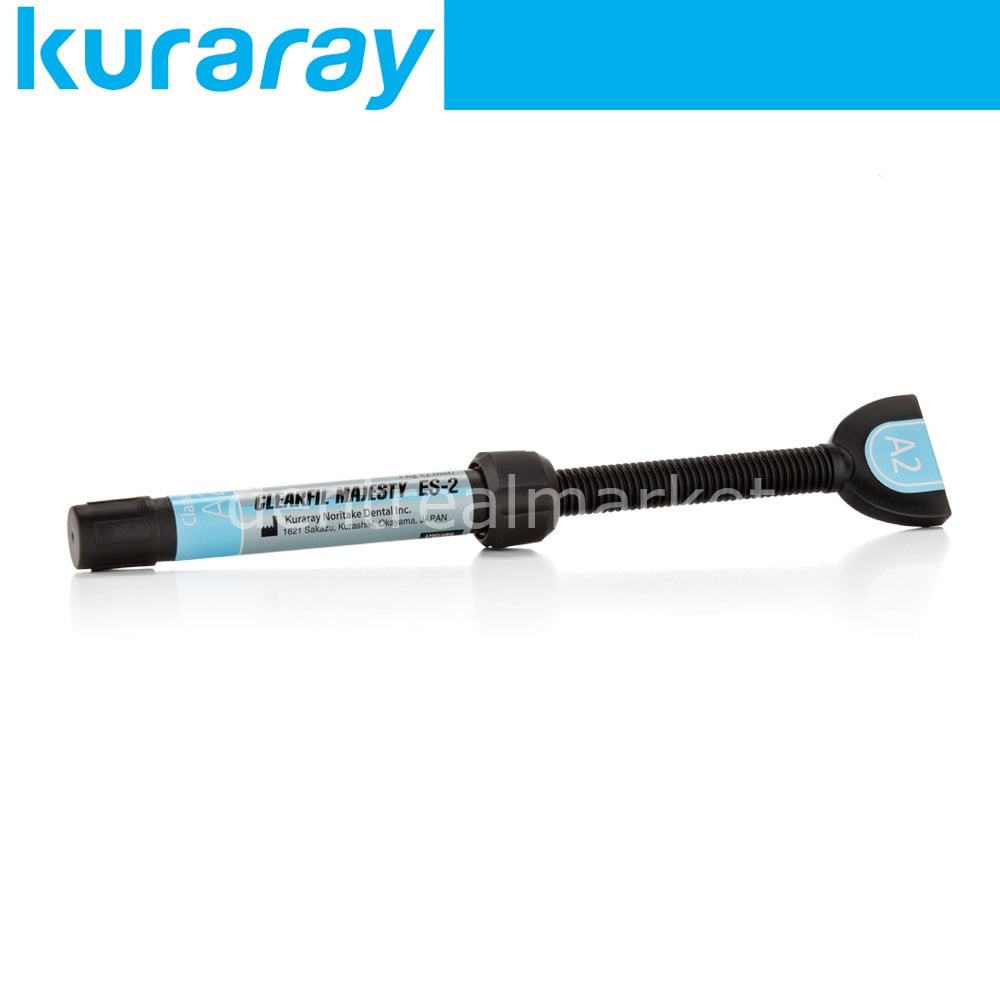 Frequently Asked Questions
Which cargo company do you send the products with?

Your products are sent with the National Postal Service as DAP (customs fees, if any, belong to the buyer)
How long does it take for the product I purchased to be delivered?

Delivery time varies from country to country. It can be delivered between 10 and 40 days.
Can you send my products with fast shipping?

Yes, if you want, you can contact us and request your products with fast shipping.This service is subject to an extra charge.
Can I buy bulk products? Can you make a discount?

If you let us know the product you are interested in and how many you want to buy, we can give you special prices.
Will I have to pay customs duty?

Our cargo shipments are in the form of DAP. These shipments may be subject to customs duty in your country. Please consult a customs official.
Can you send my cargo as DDP (all taxes paid)?

Yes we can send. Please contact us when you want a shipment in this way. These types of shipments are sent with fast shipping and will reach you within 5 to 10 business days.
Can I buy wholesale products?

Yes, you can buy wholesale products at affordable prices. You can contact us for this. Email: info@dentreal.com or Phone: +90 543 456 2614