Office Type Whitening
Heraeus Kulzer
Gluma Desensitizer - Gaining Victory Over Pain
Product SKU : H65872354
Regular price
Sale price
$70.00
Unit price
per
Sale
Sold out
Share
Product Information
BENEFITS
GLUMA Desensitizer can be used with all common adhesives and restoration materials and in every treatment situation.
Desensitizes:
Penetrates exposed tubuli up to 200 μm1, forms multiple layers of protein septa which prevent intertubular fluid movements.
Inhibits bacteria:
Provides a hermetic seal that acts as a microbial barrier, inhibiting bacterial growth.
Re-wet:
Resurrects collapsed collagenous fibres, improving the bond strength of many adhesives.
INDICATIONS
For the reduction of hypersensitivity in exposed cervical areas and on teeth prepared to receive a restoration or a fixed prosthesis.
Doctor / Assistant – Under every restoration
Use GLUMA® Desensitizer below every restoration – direct and indirect – to ensure your patients the comfort they deserve.
Below crowns
Bridges
Inlays and onlays
Veneers and temporaries
Margins around temporary crowns
Below all direct restorations
Dental hygienist – Desensitization
Patients will appreciate the fast, effective and long-term results of a comfortable prophylaxis.
Tooth neck erosion
Exposed dentine
Hypersensitive teeth due to gingiva recession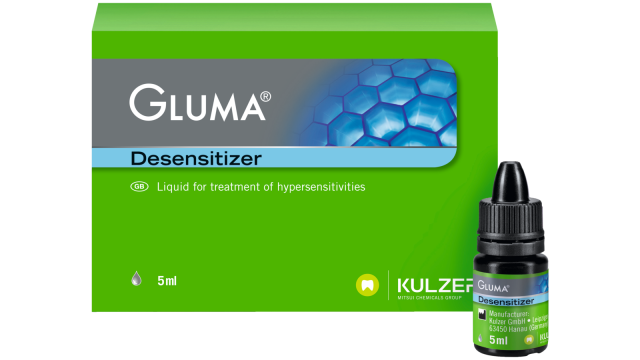 Frequently Asked Questions
Which cargo company do you send the products with?

Your products are sent with the National Postal Service as DAP (customs fees, if any, belong to the buyer)
How long does it take for the product I purchased to be delivered?

Delivery time varies from country to country. It can be delivered between 10 and 40 days.
Can you send my products with fast shipping?

Yes, if you want, you can contact us and request your products with fast shipping.This service is subject to an extra charge.
Can I buy bulk products? Can you make a discount?

If you let us know the product you are interested in and how many you want to buy, we can give you special prices.
Will I have to pay customs duty?

Our cargo shipments are in the form of DAP. These shipments may be subject to customs duty in your country. Please consult a customs official.
Can you send my cargo as DDP (all taxes paid)?
Can I buy wholesale products?

Yes, you can buy wholesale products at affordable prices. You can contact us for this. Email: info@dentreal.com or Phone: +90 543 456 2614