Relining & Repair
Zhermack
Gingifast Rıgıd Hard Gingiva Mask
Product SKU : ZHE.01.C401520
Regular price
Sale price
$70.00
Unit price
per
Sale
Sold out
Share
Product Information
Gingifast Rıgıd Hard Gingiva Mask
Gingifast addition silicones are conceived to reproduce gingival morphology on models in fixed prosthesis and implant applications. Zhermack proposes the most suitable gum mask for all types of application.
Gingifast Elastic guarantees excellent aesthetic results, thanks to its translucence and the presence of fibrils to give a natural effect. Particularly suitable in the presence of undercuts and thin thicknesses.
Characteristics
• Various hardnesses: Elastic 40 Shore A, Rigid 70 Shore A
• Setting time: 10:00
• Mixing ratio 1:1
Advantages
• Compatible with the various techniques used to make artificial gums (direct and indirect)
• Excellent aesthetic results
• With the Gingifast CAD formula, very small mixing tips can be used reducing silicone waste
Packaging
2 x 50 ml cartridges (Gingifast Rigid) + 12 mixing tips + 12 yellow oral tips
Product
Recommended in the presence
of undercuts
Recommended in the presence
of implants
Gingifast Elastic
Highly Recommended
Recommended
Gingifast Rigid
Recommended
Highly Recommended
Gingifast CAD
Elastic
Highly Recommended
Highly Recommended
Gingifast CAD
Rigid
Recommended
Highly Recommended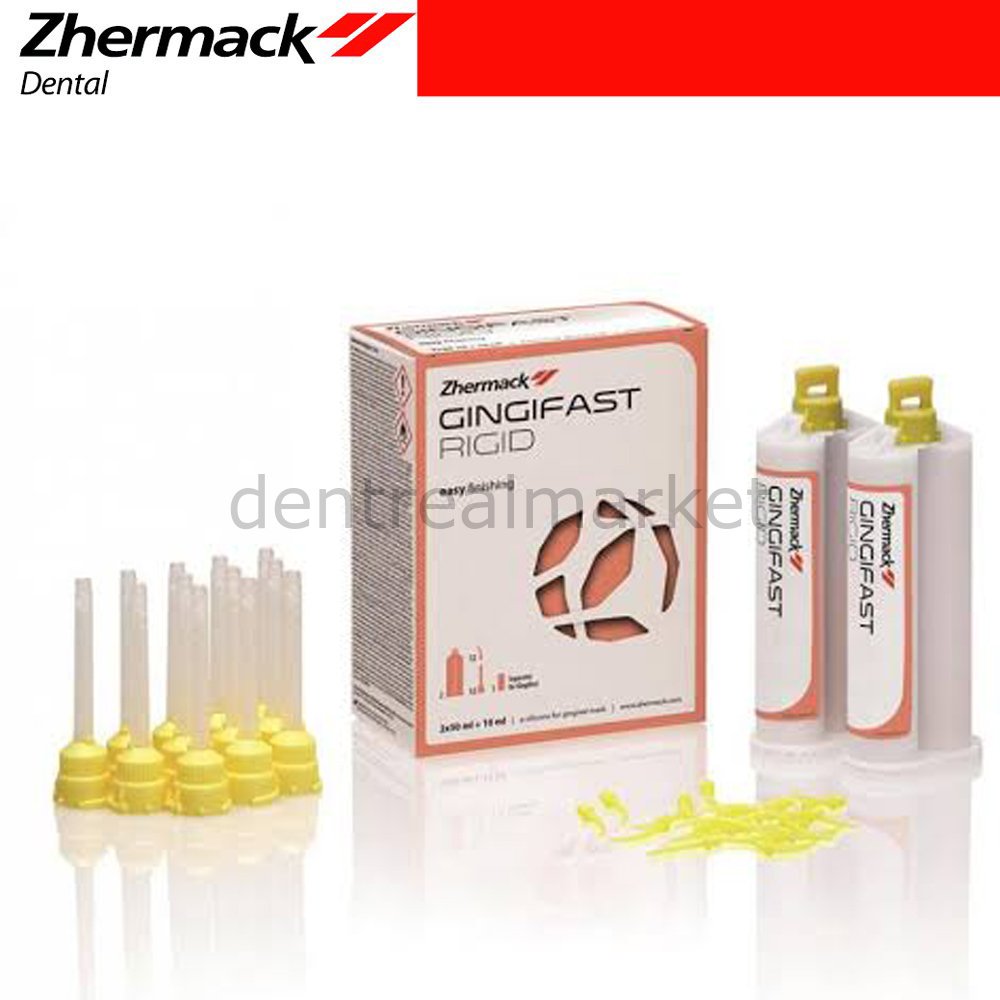 Frequently Asked Questions
Which cargo company do you send the products with?

Your products are sent with the National Postal Service as DAP (customs fees, if any, belong to the buyer)
How long does it take for the product I purchased to be delivered?

Delivery time varies from country to country. It can be delivered between 10 and 40 days.
Can you send my products with fast shipping?

Yes, if you want, you can contact us and request your products with fast shipping.This service is subject to an extra charge.
Can I buy bulk products? Can you make a discount?

If you let us know the product you are interested in and how many you want to buy, we can give you special prices.
Will I have to pay customs duty?

Our cargo shipments are in the form of DAP. These shipments may be subject to customs duty in your country. Please consult a customs official.
Can you send my cargo as DDP (all taxes paid)?
Can I buy wholesale products?

Yes, you can buy wholesale products at affordable prices. You can contact us for this. Email: info@dentreal.com or Phone: +90 543 456 2614