Gc Dental
Glass Ionomer Cement
Gc Dental
Fuji Plus Powder - Glass Ionomer Luting Cement, 15g
Product SKU : GC.001411
Regular price
Sale price
$85.00
Unit price
per
Sale
Sold out
Product Information
GC Fuji PLUS (Resin Modified Glass Ionomer Luting Cement
The outstanding performance, due to the combination of resin and GIC, and the different available shades makes GC Fuji Plus a multi purpose cement that can be used for all modern luting procedures. GC Fuji PLUS EWT has an extended working time for luting long span bridge work, combination work and luting of several restorations in one step.
Advantages:
Easy mixing and handling like a conventional cement
Similar mechanical properties to resin cements
Intrinsic adhesion to tooth structure
Elimination of complex and moisture sensitive bonding procedures
Good adhesion to metal, resin and silanated porcelain
Multi purpose
Minimal film thickness
Easy seating and improved fit
No post-operative sensitivity
Comfortable for the patient
Very low solubility
Maintain marginal seal
Radiopaque
Facilitating diagnosis
In combination with the GC Fuji PLUS Conditioner
Optimal marginal seal
Continued high fluoride release
Indications:
GC Fuji PLUS is multi-purpose, able to cement metal-based restorations, ceramic inlays, reinforced ceramic crowns and bridges and all kinds of acrylic/resin crowns, inlays, onlays and bridges.
Delivery form:
GC Fuji Plus Powder - 15g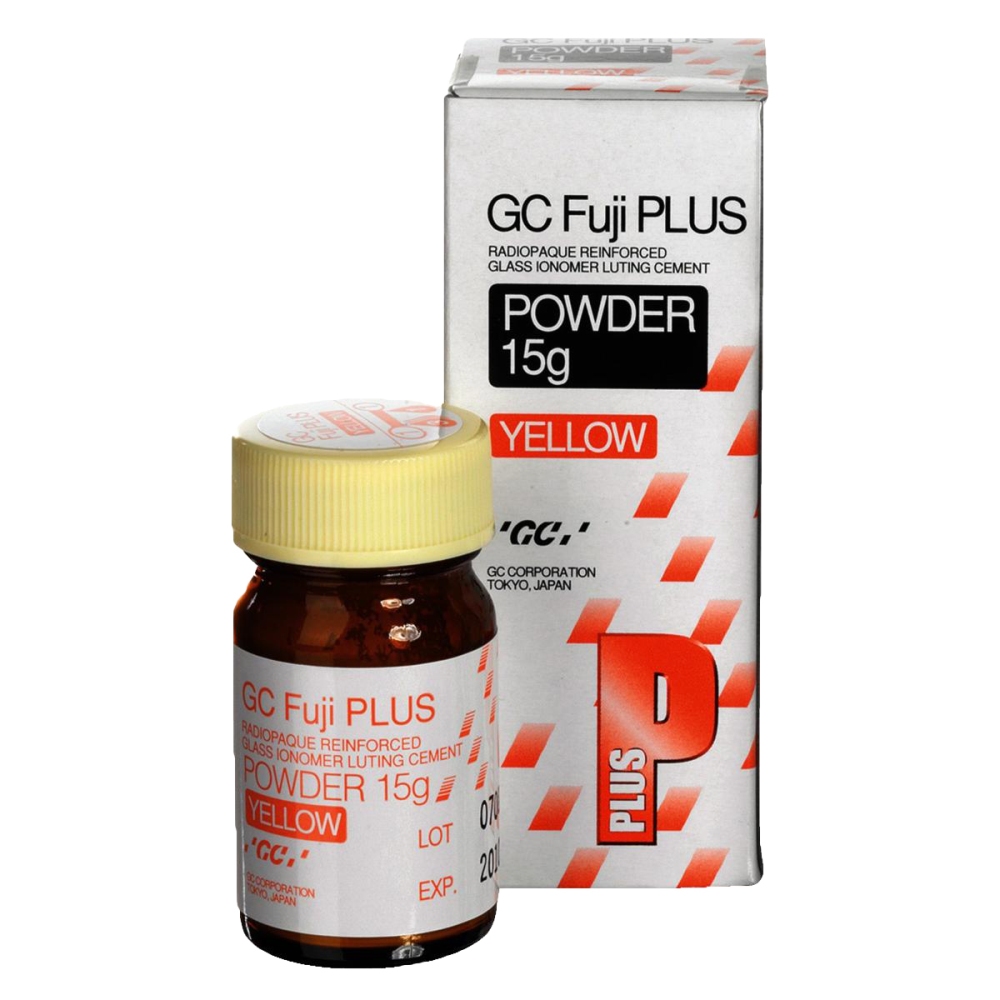 Frequently Asked Questions
Which cargo company do you send the products with?

We send products up to 2 kilos free of charge with the National Cargo service. You can also choose the fast shipping option during payment. International product delivery method DAP
How long does it take for the product I purchased to be delivered?

Delivery time varies from country to country. It can be delivered between 10 and 40 days.
Can you send my products with fast shipping?

Yes, if you want, you can contact us and request your products with fast shipping.This service is subject to an extra charge.
Can I buy bulk products? Can you make a discount?

If you let us know the product you are interested in and how many you want to buy, we can give you special prices.
Will I have to pay customs duty?

Our cargo shipments are in the form of DAP. These shipments may be subject to customs duty in your country. As the buyer, you are responsible for any customs duties that may occur at the customs in your country. If your product is taxed by customs, please follow your country's customs procedures.
Can you send my cargo as DDP (all taxes paid)?

Yes we can send. Please contact us when you want a shipment in this way. These types of shipments are sent with fast shipping and will reach you within 5 to 10 business days.
Can I buy wholesale products?

Yes, you can buy wholesale products at affordable prices. You can contact us for this. Email: info@dentreal.com or Phone: +90 543 456 2614