Calcium Hydroxide
Diadent
Diapaste Calcium Hydroxide Paste with Barium Sulfate
Product SKU : DIA.1001-401
Regular price
Sale price
$40.00
Unit price
per
Sale
Sold out
Share
Product Information
DIAPASTE - Calcium Hydroxide Paste
 
Premix Calcium Hydroxide with Barium Sulphate
DiaPaste is the most popular product, a great alternative to Diapex. DiaPaste is a premixed calcium hydroxide barium sulfate paste for root canal treatment. It is iodoform-free. It is easy to clean and remove. DiaPaste is water soluble. It is also radiopaque and antibacterial.

The premix is packaged in a convenient syringe, which eliminates dough mixing and provides an ideal tool for apical application. Diapaste can be used with gutta percha and regular canal sealants.
APPLICATIONS:
Apexification
Infected root canal treatment
temporary filling root
Root canal filling of primary teeth
Disinfection after pulp extirpation treatment
Vital pulpotomy
Temporary pulp capping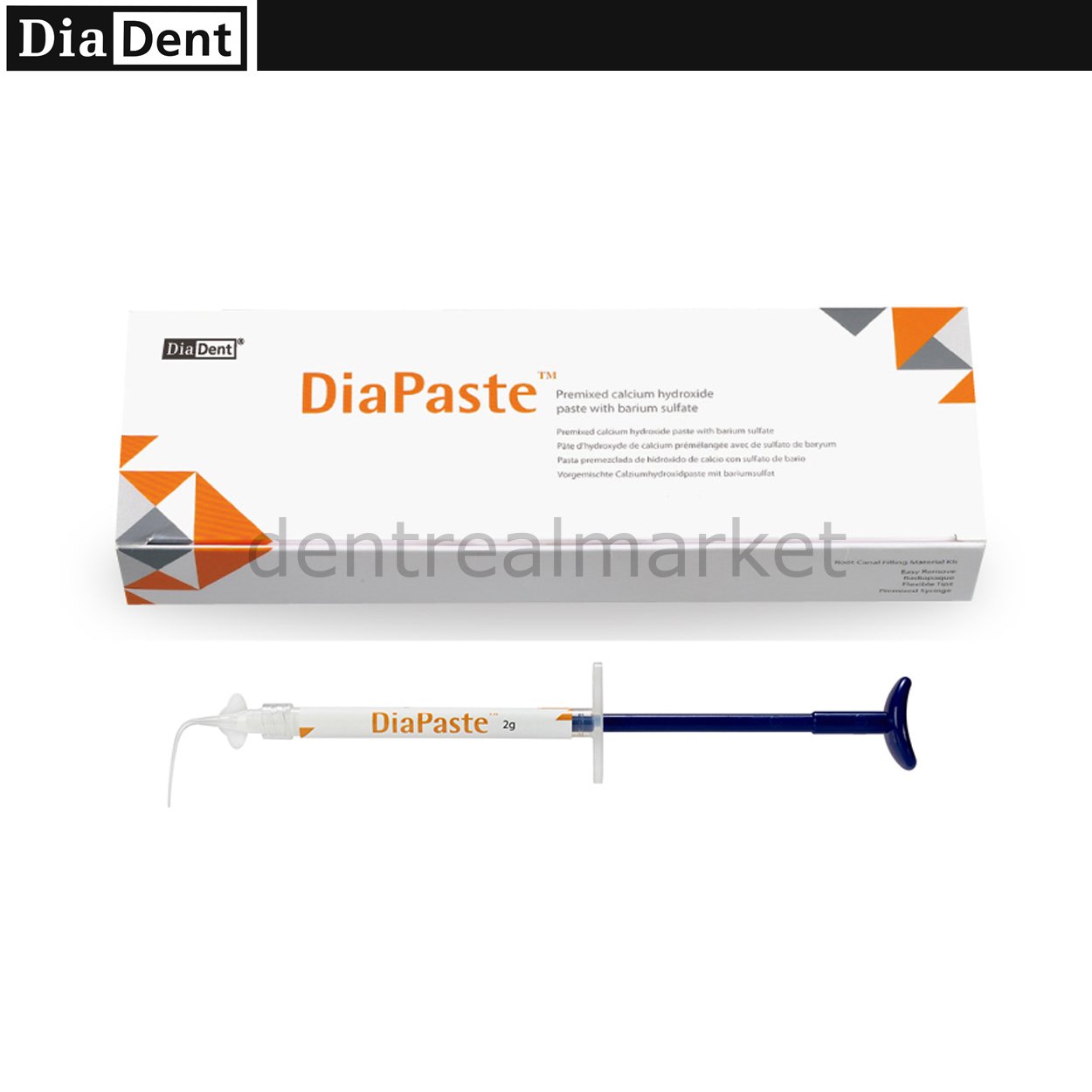 Frequently Asked Questions
Which cargo company do you send the products with?

Your products are sent with the National Postal Service as DAP (customs fees, if any, belong to the buyer)
How long does it take for the product I purchased to be delivered?

Delivery time varies from country to country. It can be delivered between 10 and 40 days.
Can you send my products with fast shipping?

Yes, if you want, you can contact us and request your products with fast shipping.This service is subject to an extra charge.
Can I buy bulk products? Can you make a discount?

If you let us know the product you are interested in and how many you want to buy, we can give you special prices.
Will I have to pay customs duty?

Our cargo shipments are in the form of DAP. These shipments may be subject to customs duty in your country. Please consult a customs official.
Can you send my cargo as DDP (all taxes paid)?
Can I buy wholesale products?

Yes, you can buy wholesale products at affordable prices. You can contact us for this. Email: info@dentreal.com or Phone: +90 543 456 2614