Root Filling
Diadent
Dia Proseal Resin Based Root Canal Sealing Material - 16 g
Product SKU : DIA.1003-201
Regular price
Sale price
$50.00
Unit price
per
Sale
Sold out
Share
Product Information
Dia Proseal Resin Based Root Canal Sealant - 16 g
DIA-PROSEAL, root canal sealer, is an epoxy resin-based formula with exceptional flow properties.

Benefits
The ideal root sealant with low shrinkage reduces the gaps between the sealant and the canal wall.
The low solubility makes it resistant to degradation over time.
Paste 1: 1 to paste the manual mixing system.
Quick and Easy Preparation and Less Waste
Mixing and processing is very smooth
Its excellent flow properties allow it to reach and seal the side channels, making it particularly suitable for hot gutta-percha methods.
It offers a working time of 1 hour and a setting time of 7 hours.
Better biocompatibility for susceptibility and a solution to periapical inflammation.
high radiopacity
Lightly coated Gutta Percha Spots with good film thickness.
Package Included
1 16 g syringe (Base 6.5 g + Catalyst 9.5 g).
1 mixing pad
1 Spatula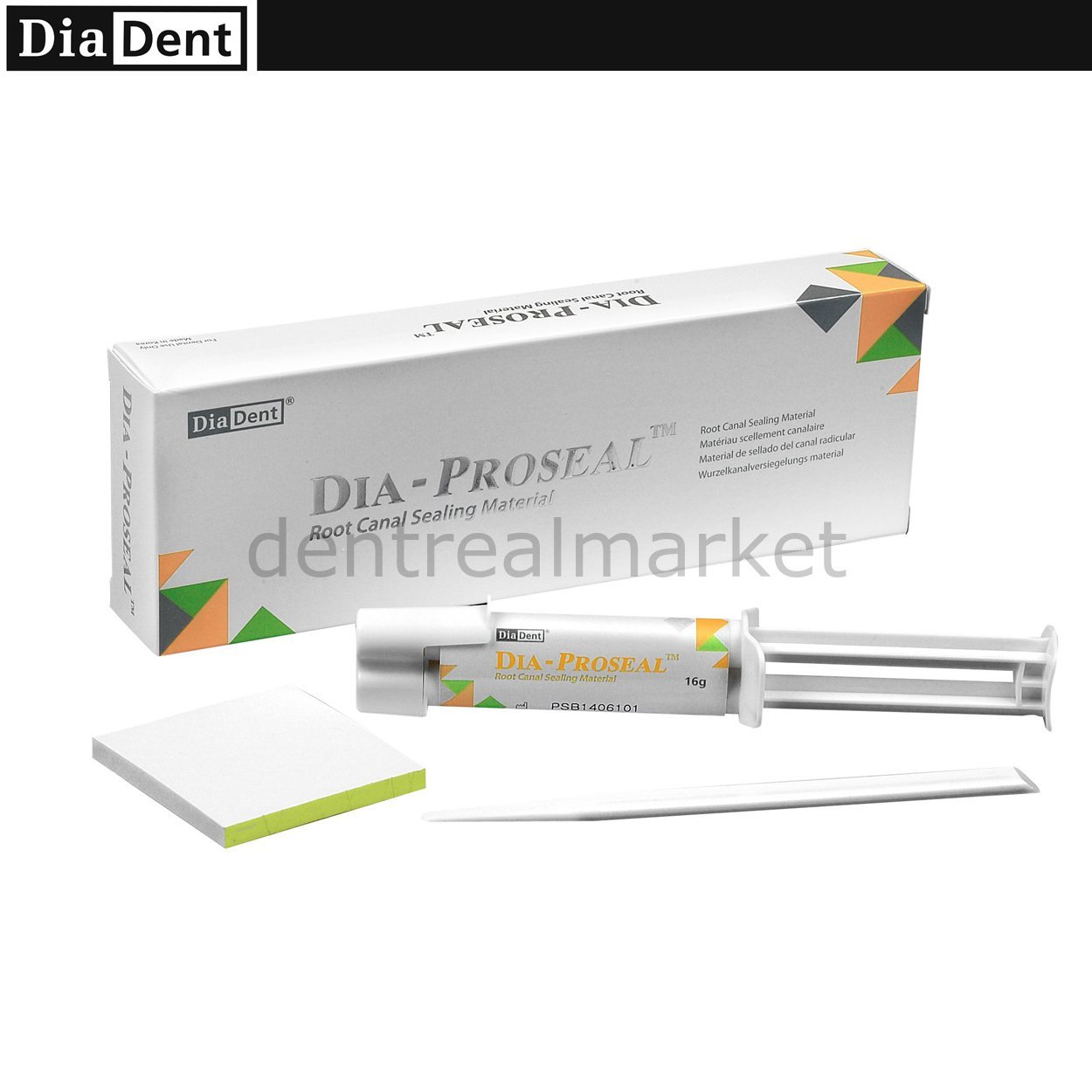 Frequently Asked Questions
Which cargo company do you send the products with?

Your products are sent with the National Postal Service as DAP (customs fees, if any, belong to the buyer)
How long does it take for the product I purchased to be delivered?

Delivery time varies from country to country. It can be delivered between 10 and 40 days.
Can you send my products with fast shipping?

Yes, if you want, you can contact us and request your products with fast shipping.This service is subject to an extra charge.
Can I buy bulk products? Can you make a discount?

If you let us know the product you are interested in and how many you want to buy, we can give you special prices.
Will I have to pay customs duty?

Our cargo shipments are in the form of DAP. These shipments may be subject to customs duty in your country. Please consult a customs official.
Can you send my cargo as DDP (all taxes paid)?
Can I buy wholesale products?

Yes, you can buy wholesale products at affordable prices. You can contact us for this. Email: info@dentreal.com or Phone: +90 543 456 2614