Clinical Products
Dentreal
Dentreal Dri-Angle Saliva Blocker
Product SKU : DRM.DRIA
Regular price
Sale price
$75.00
Unit price
per
Sale
Sold out
Product Information
Dentreal Dri-Angle Saliva Blocker
Dri-Angle is a unique replacement and a decided improvement in the cotton roll in the parotid region. Dri-Angle covers the parotid or Stensen's duct and effectively restricts the flow of saliva. Designed by dentist John W. Owen, DDS, the Dri-Angle was created to meet the need for a dry space when working with composites, bonding and cementing.
 
composites
Pasting
Acrid
Whitening
Dri-Angle, a thin, absorbent, cellulose triangle, comes in two types: plain and silver-coated. The silver-plated Dri-Angle can be used for superior saliva control. Silver coating on one side acts as a complete moisture barrier for heavy saliva. We are happy to provide you with free samples to see Dri-Angle in action.
placement technique
The Dri-Angle is contoured to fit the inside of the cheek. Choose the small or large size for a particular patient. Place the convex side on the cheek with the apex of the Dri-Angle as far back as possible. The apex should almost touch the retro molar pad area.
heavy saliva
Use two coats of Dri-Angle or use silver-plated Dri-Angle. The silver coating acts as a complete moisture barrier to ensure absolute dryness.
Important
If the Dri-Angle is not saturated with saliva, it is thoroughly soaked with a squirt of water before being removed from the wet cheek. If the Dri-Angle is not thoroughly soaked, it can stick to your cheek and pull tissue.
Dri-Angle as tongue guard:
Dri-Angle can protect the tongue while preparing teeth in the lower bicuspid and molar region. Have the patient extend the tongue and insert the tip of the tongue into the contralateral buccal fold. Place a small Dri-Angle against the tongue where it will lightly adhere and provide full protection.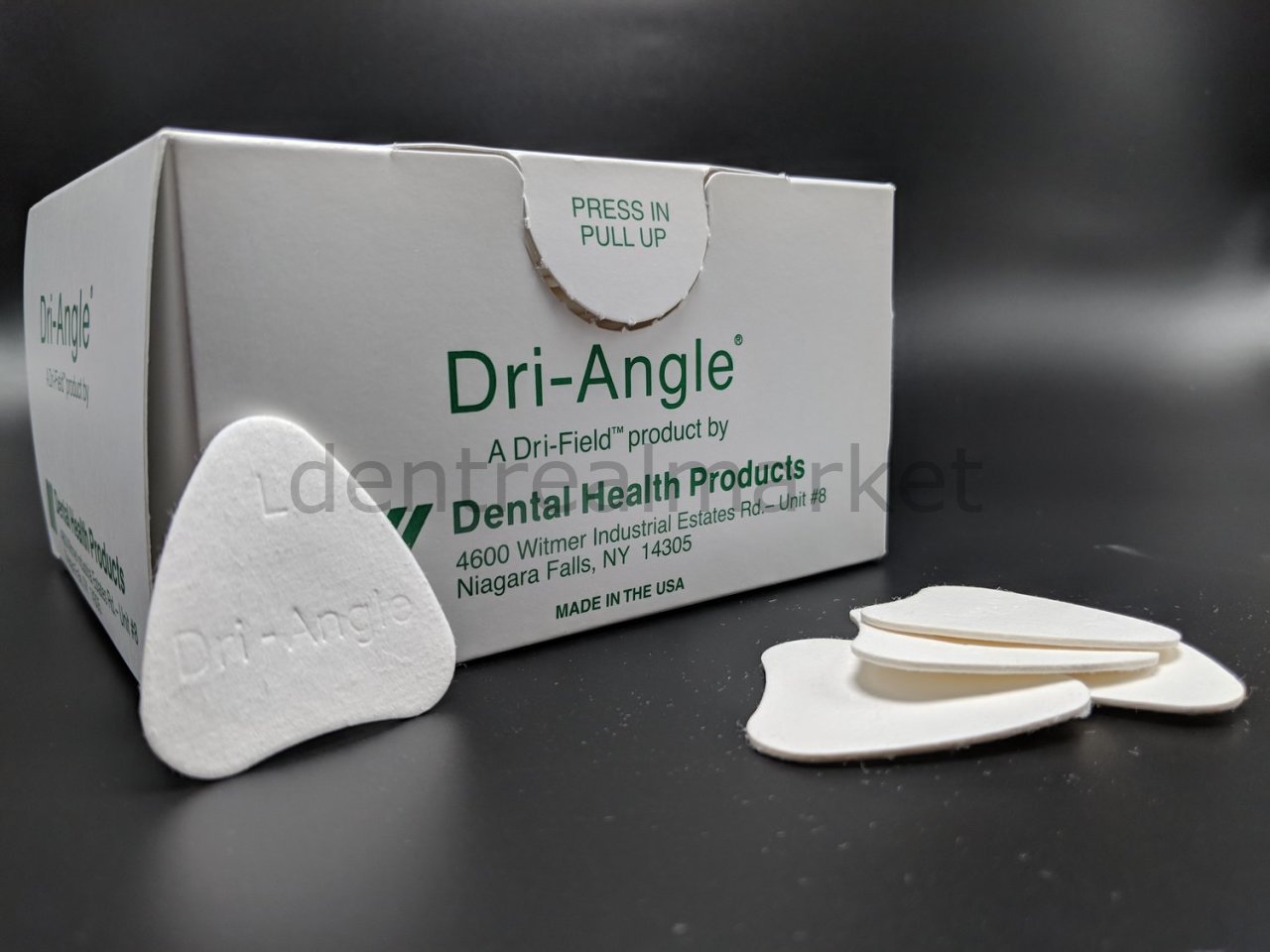 Frequently Asked Questions
Which cargo company do you send the products with?

Your products are sent with the National Postal Service as DAP (customs fees, if any, belong to the buyer)
How long does it take for the product I purchased to be delivered?

Delivery time varies from country to country. It can be delivered between 10 and 40 days.
Can you send my products with fast shipping?

Yes, if you want, you can contact us and request your products with fast shipping.This service is subject to an extra charge.
Can I buy bulk products? Can you make a discount?

If you let us know the product you are interested in and how many you want to buy, we can give you special prices.
Will I have to pay customs duty?

Our cargo shipments are in the form of DAP. These shipments may be subject to customs duty in your country. Please consult a customs official.
Can you send my cargo as DDP (all taxes paid)?

Yes we can send. Please contact us when you want a shipment in this way. These types of shipments are sent with fast shipping and will reach you within 5 to 10 business days.
Can I buy wholesale products?

Yes, you can buy wholesale products at affordable prices. You can contact us for this. Email: info@dentreal.com or Phone: +90 543 456 2614