Temporary Fill
3M
Cavit-G Temporary Filling Material – Grey - 28gr
Product SKU : 3M.44313
Regular price
Sale price
$19.00
Unit price
per
Sale
Sold out
Product Information
3M ESPE Cavit g Temporary Filling Material
3M Cavit G is a temporary filling material self-curing under humidity for temporary filling of cavities.The final hardness of the three variants decreases in the sequence of listing. Cavit G can be removed in one piece without residue.
INDICATIONS :-
Temporary restorations, especially inlay preparations.

Temporary fillings.

Filling implant sites.

Relining temporary prefabricated crowns and bridges.
FEATURES :-
Proven filling material for temporary fillings.

Removable completely without burs.

Simple to apply with filling instrument.

Quick and void-free curing in a moist environment.
DIRECTIONS FOR USE :-
Use an instrument to fill the required quantity into the wet cavity.The hardening process starts after a few minutes. Avoid any exposure to chewing pressure for about 2 hours after application

Deep cavities need not be filled completely. If the material is used to close up a drug, pressure-free application is recommended

Use rotary instruments to remove the temporary filling. Remove the Cavit G filling with a stiff probe.
CONTENTS :-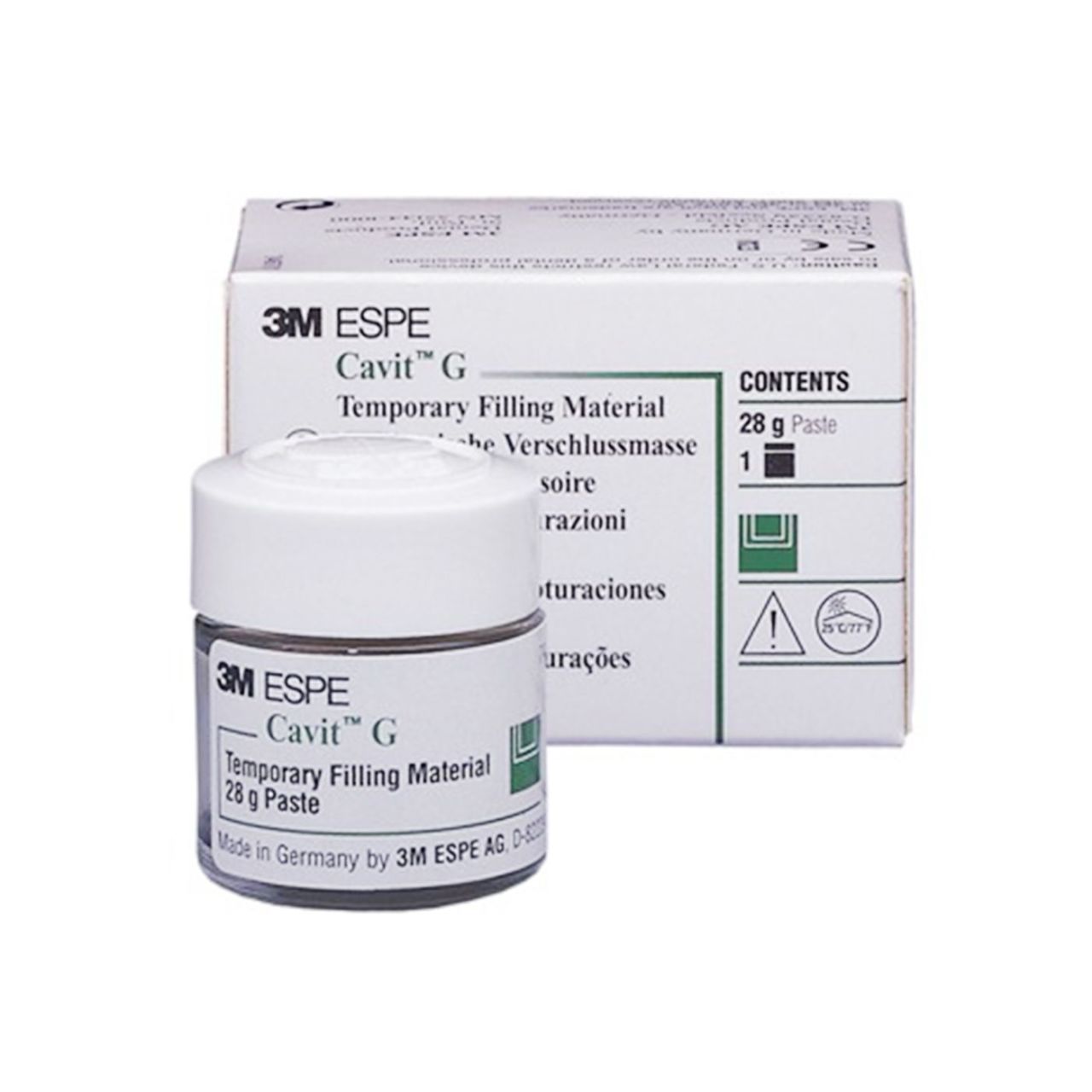 Frequently Asked Questions
Which cargo company do you send the products with?

We send products up to 2 kilos free of charge with the National Cargo service. You can also choose the fast shipping option during payment. International product delivery method DAP
How long does it take for the product I purchased to be delivered?

Delivery time varies from country to country. It can be delivered between 10 and 40 days.
Can you send my products with fast shipping?

Yes, if you want, you can contact us and request your products with fast shipping.This service is subject to an extra charge.
Can I buy bulk products? Can you make a discount?

If you let us know the product you are interested in and how many you want to buy, we can give you special prices.
Will I have to pay customs duty?

Our cargo shipments are in the form of DAP. These shipments may be subject to customs duty in your country. As the buyer, you are responsible for any customs duties that may occur at the customs in your country. If your product is taxed by customs, please follow your country's customs procedures.
Can you send my cargo as DDP (all taxes paid)?

Yes we can send. Please contact us when you want a shipment in this way. These types of shipments are sent with fast shipping and will reach you within 5 to 10 business days.
Can I buy wholesale products?

Yes, you can buy wholesale products at affordable prices. You can contact us for this. Email: info@dentreal.com or Phone: +90 543 456 2614