Calcium Hydroxide
Cerkamed
Calcipast+ I Calcium Hydroxide Paste with Iodoform
Product SKU : CER.175001
Regular price
Sale price
$40.00
Unit price
per
Sale
Sold out
Product Information
Calcium Hydroxide Material Fortified with Iodoform
It reduces inflammation.
It has a very strong antibacterial effect.
It promotes the remodeling of damaged periapical tissues and the formation of corrective dentin through the odontoblast.
It prevents leaks from entering the root canal system.
Due to the iodoform it contains, it provides an advantage in use in children's teeth.
Application of Calcipast+I Product
1. Prepare the canal mechanically using chemo-mechanical preparation materials (Endo-Solution, Endo-Prep Cream), rinse well (Chloraxid) and dry the canal (eg with Canal Clean)
2. Use the Endo-aspirator and paper points to thoroughly dry the root canal.
3. Fill the canal with CALPIPAST + I holding the applicator 1/3 deep of the apex opening, remove excess paste, seal the gap tightly (eg with Total Blend), leave it for 1 week to 30 days, after this time replace the temporary sealant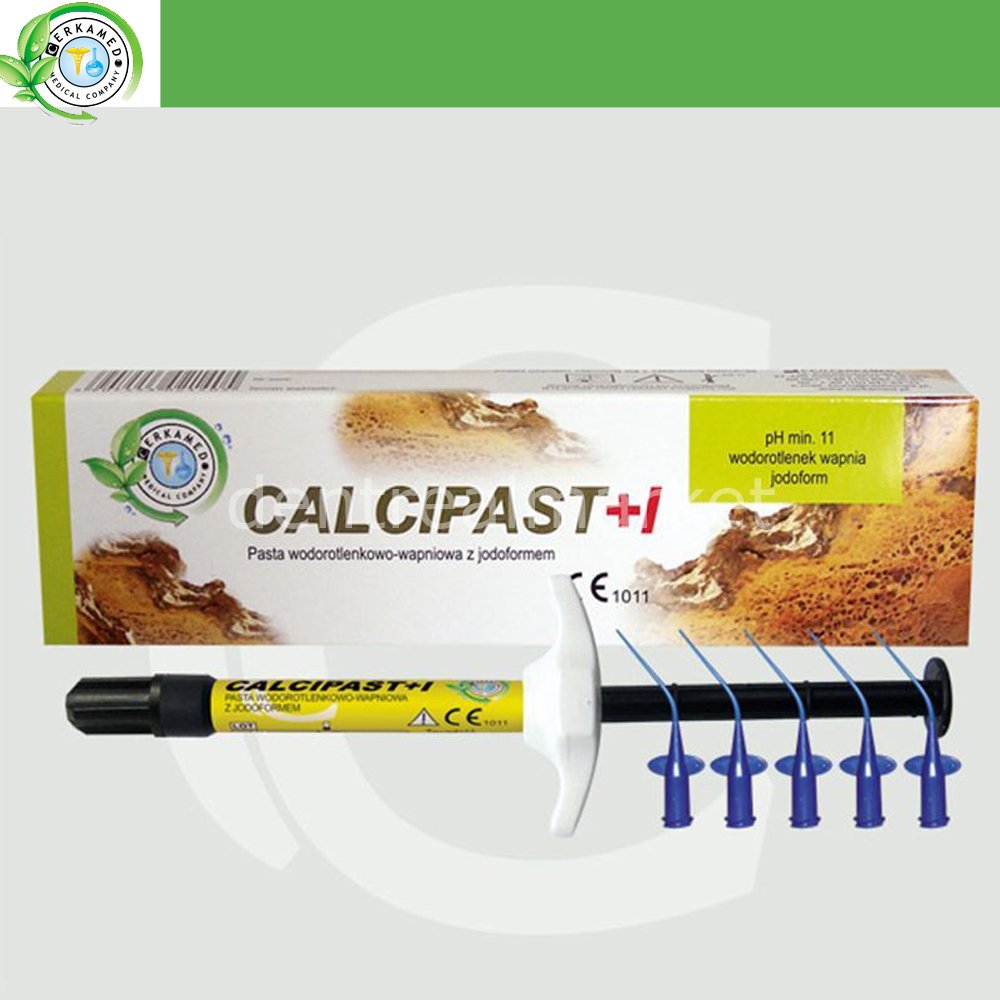 Frequently Asked Questions
Which cargo company do you send the products with?

We send products up to 2 kilos free of charge with the National Cargo service. You can also choose the fast shipping option during payment. International product delivery method DAP
How long does it take for the product I purchased to be delivered?

Delivery time varies from country to country. It can be delivered between 10 and 40 days.
Can you send my products with fast shipping?

Yes, if you want, you can contact us and request your products with fast shipping.This service is subject to an extra charge.
Can I buy bulk products? Can you make a discount?

If you let us know the product you are interested in and how many you want to buy, we can give you special prices.
Will I have to pay customs duty?

Our cargo shipments are in the form of DAP. These shipments may be subject to customs duty in your country. As the buyer, you are responsible for any customs duties that may occur at the customs in your country. If your product is taxed by customs, please follow your country's customs procedures.
Can you send my cargo as DDP (all taxes paid)?

Yes we can send. Please contact us when you want a shipment in this way. These types of shipments are sent with fast shipping and will reach you within 5 to 10 business days.
Can I buy wholesale products?

Yes, you can buy wholesale products at affordable prices. You can contact us for this. Email: info@dentreal.com or Phone: +90 543 456 2614
Dental Outlet
Vendor:

Regular price

$90.00

Sale price

$60.00

Unit price

per

Vendor:

Regular price

$50.00

Sale price

$30.00

Unit price

per

Vendor:

Regular price

$90.00

Sale price

$60.00

Unit price

per